*ahem*
PLEASE pardon me while I geek out here. Jay started to laugh at me when I told him how awesome this was. "You only get this way for nerdy things," he told me. I know! I'm a nerd!
It has taken a very long time to get used to TS3. And now that I have, I'm convinced more and more of its awesomeness, and less and less convinced that they set out to mess shit up.
For instance- it is as simple as pressing down the "alt" button to move stuff around off grid including at angles other than 45 degrees. This includes sims when used with the move objects cheat.
Not only can you color pretty much everything, but you can freakin' color pretty much everything. I rather enjoy giving sims who are of age a little gray without having to go outside of the game. Or giving my elders a little color or different shades of gray or letting them completely color their hair.
Now with the release of Create a World, we can build our own worlds from the ground up, including terrain paints and the sounds and road textures (and multiple road textures in the same world too). The sounds that are included are amazing and include the sound of low water, knee deep water, broken glass, concrete, different dirt and sands, grass and dry grass, and more. I am huge on sounds like footsteps for some reason.
But that isn't all. It is SO much easier now to actually mess with the INI files and make yourself a world with custom water color at different times of the day, change the size of the sun and the moon, and when it rises. A tutorial is
here
. And you can mess with the INI files while the game is running to see the effects.
Compare: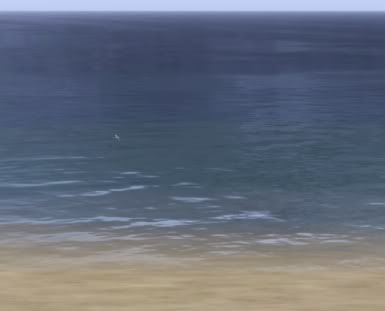 We have the normal water shipped with the game. It's like a murky blue. Then there is the water color that I made for Ruin.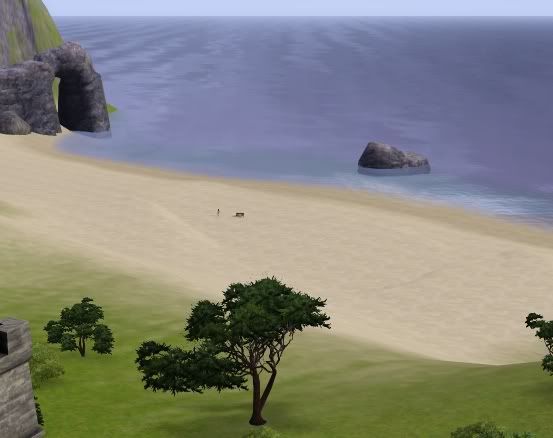 For Ruin, I wanted the water to have a different tinge to it. It's almost purple at its base color. It almost look iridescent to me.
The color of the water can be changed for every state and for different times of the day. And best of all, you can do this while the game is running. As soon as I save, the color of the water changes.
I can change it for the world alone once I'm done, but I find that there is a plus side to swapping out the INI files. If I wanted, I could keep the sea looking like a separate color from the lakes in town. Changing the INI files changes both.
But I haven't really decided yet.
Okay, so random playing with it here is my finding. GAH! It is so awesome!
So I was playing around last night, just testing the color capabilities. Right now I'm just playing with the water.
As the sun began to set, I wanted the water to move into a slightly more redish tint. It was close to 6pm, and in Sims 2, that means sun set to me. With the lighting mod, I loved that redish glow everything got, so that's probably what I'm thinking about when I wanted this tint.
This was the moment that I found out that the sea color is a blending of the two values that sit at different times.
Wait, does that make sense? Here's what I mean.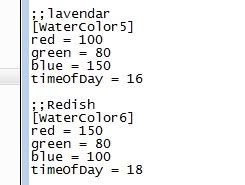 Ok, in my Sky_ClearSea ini text, this is what I have. At 1600 (4:00), the sea is more lavender in color. At 1800 (6:00) I tinted the sea to be more redish. Originally, I thought this meant that the sea would be those colors until it hit that time of day. (Did I really picture it suddenly changing color as soon as 6:00 hit? Yes, yes I swear I did.)
But no, that isn't what it does. It moves from lavender-ish in color to redish in color. So when I was messing around with the coloring at 5:30, messing with one block or the other actually affected the coloring of the sea because it was using both values to calculate the color of the sea.
That is not all. It also does the exact same thing over two files when the sky is changing. There are files for each state of the sky. There's partly cloudy, stormy, overcast, and clear.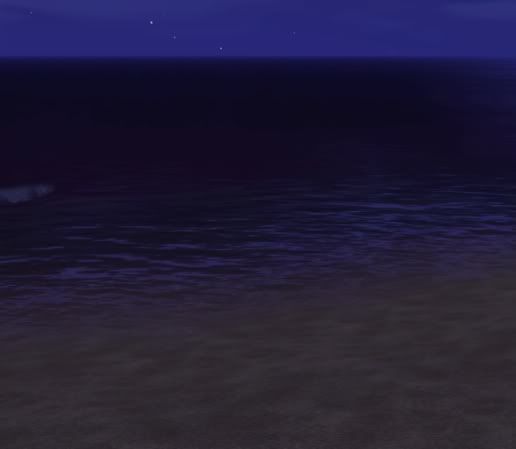 While my sims were sleeping, I was wanting to mess with the sea color at night. I wanted to make it pitch black. But I kept having a redish tint to it.
It's kinda hard to tell in this picture, but you can sort of see it. If you looked at it overhead, you'd definitely see it. I was very confused.
So I looked up at the sky. It turns out that it was moving into a partly cloudy cycle, so the two values I needed to mess with were in the Sky_ClearSea file and the Sky_PartlyCloudySea file. And of course, I then had to think about the extra values that the sea was heading towards. You know, what color it would be at 4:00am.
There's more that can be customized, including the lunar cycle, and cloud color, and stuff with the sun and the moon, supposedly reflection colors too. It's pretty amazing. I'm thinking my next building will have to be a proper scientific building, or maybe I'll just set one up in one of the apartments over the market, and we'll have to make a point of watching the moon and the sun.
If I do this right, I could probably mimic seasons and just swap out the INI files. Since I can do this while playing, it's much less of a hassle than using a package file.
Anyway, whoops. I let the inner geek out. Well, I suppose we all know that's a risk when we get talking about Sims. I still have a game play update coming up, and I have to do some testing because there are some things I am not satisfied with in the village and I need to go back to CAW.