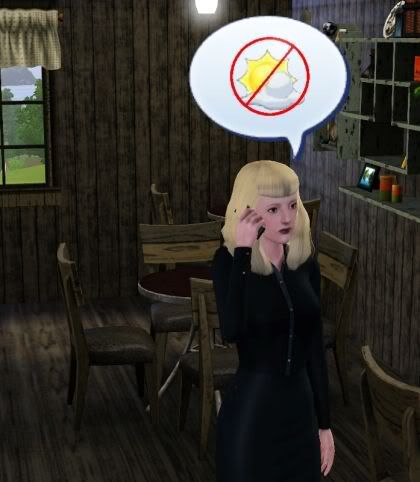 When I started up Agnes' lot last play session, I found her here-- at the
Windfall Motel
, a place meant for homeless sims to have a place to eat and rest. It's the last place I expected her to be drawn to, but then things in her life have probably never gone the way she's expected.
Her sister, Cornelia Goth, gave her a call while she was here. Doesn't she look thrilled? "No, Cornelia, I don't see the sun getting ready to shine through the clouds. No, I don't want to talk about it."
Cornelia calls her often, usually at least once a day, to check up on her.
I can't blame Cornelia.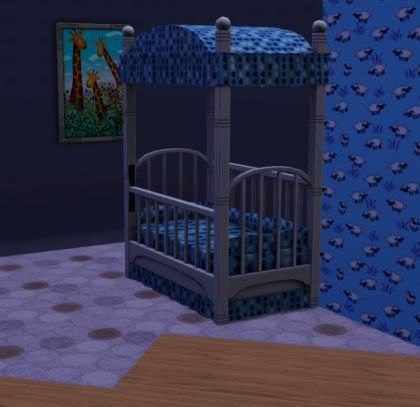 She lives alone in that large house and has so far shown little interest in getting to know any of her neighbors.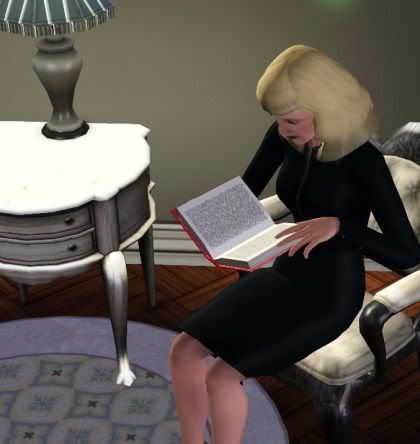 Agnes usually enjoys painting and has written a non-fiction book which did reasonably well. Her agent is now asking for something spicier, maybe a drama or a love story or both. But Agnes can feel her creativity slowly drying up in the same way as her small fortune left to her by her husband.
She felt the only thing to do was to take on a part time job at the book store.
That didn't last long. She was soon fired (my first sim ever to be fired-- what an honor), and so now she can't hide herself away in the bookstore anymore. It would just be too awkward.
Agnes has felt the need to go through some changes. I'm going to use that as an explination for her garb in the next part here. (She also wears pants sometimes with a sweater. Highly unusual for her.)
One night, she heard something from down stairs and saw something glowing in the front yard. She'd heard about it, but couldn't believe it. Her Darling had come back from the dead. She had no time to dress herself properly; she did not want to miss him.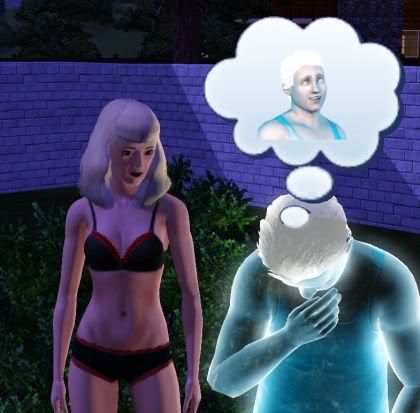 "Darling, is that you?"
"I don't want you to see me like this!" He turned away from her as if to run, but he only stepped closer to his grave.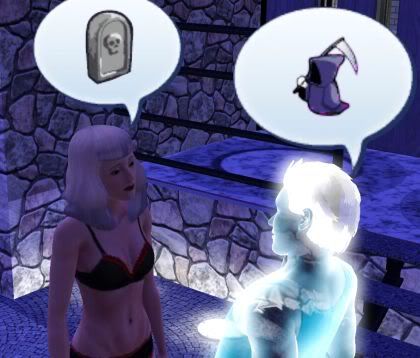 "No," she whispered. He'd only just appeared, and he seemed ready to leave her alone again. "Darling, why did you leave? Why did you leave me alone?"
He halted his progression towards his headstone. "I didn't leave," he said with a voice that softly echoed on the air. "I was taken before my time. By the Reaper. I only come out at night to check in on you, my dear."
"The Grim Reaper?" Agnes had read books on death which had taken her into the myths and the Grim Reaper. "There's a way to beat him, I know there is. I read it in a book once."
Her darling shook his head, "You and your books."
But he stayed and listened to her until the sun almost came up.