I have to admit I haven't even fired up the game in a very long time. I apologize, but I'm not exactly sure what in the world I want to do with you!
Collecting is sort of annoying. AND sometimes you sims seem to have issues with time management. AND listening. But men look like men, and sims can be portly or thick or strong.
So I decided I would fire up the game last night and try my hand at designing sims with an idea in mind. There is possibly a very weird and unique story that could come out of this if you stop being a Prema Donna, Sims 3.
Sincerely,
Foxy
So, inspired by
Marooned on Tuesday
, I've decided to give Sims 3 a shot as a story telling vehicle. I wasn't really playing it for the game very much. And I really don't care what the heck happens to the sims I was playing. I really can't seem to bond to them. (Sorry Agnes, and Varina, and Amberle 2!)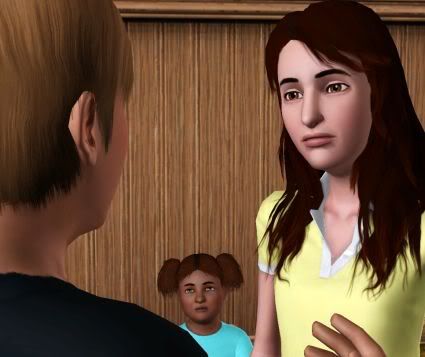 So last night I made a group of four sims-- three teens and one kid (thank you Awesome Mod). In front here is Edith. She's a good sim, a natural cook, and some other stuff that I can't remember. Oops. I should take some notes.
Edith and co. live in a world that is most definitely not ours. And it's definitely not Riverview or Sunset Valley (though technically they are living in Riverview right now). It's one I started working on when I was in high school free writing for fun. Trying to recreate it with Sims 3 is going to prove difficult, but I am more than willing to change my ideas around for the game. Somehow the game and I will have to compromise!
But good pretty characters can kind of be boring. So I do need some pretty not good characters too.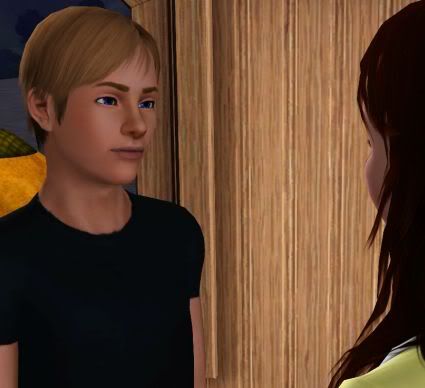 That's "Michael." He doesn't really have a name, that's just what Edith's always called him. He is a mean spirited Genius who is very charismatic. That was sort of Edith's downfall. That and the fact that she's a good person.
Once I made them all, I was excited to get them in the house and see how they would react. Would Michael act the way the character in my head does?
I am happy to report that he really does. Being mean spirited and charismatic, his conversations seemed to bounce around. He spent some time talking nicely with her and then he would make faces like this: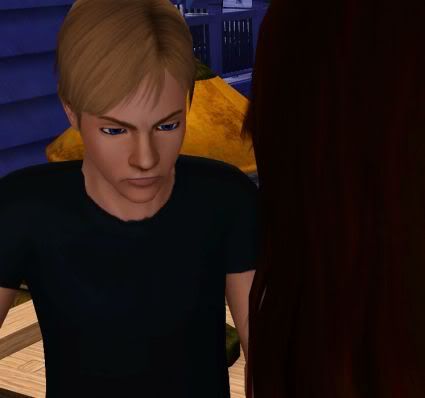 He made fun of good people to her, which made her feel like a blockhead and gave him a little smirk.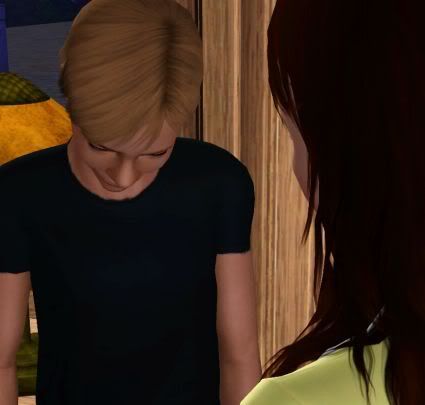 But he seemed sorry about it. They're supposed to be friends after all, and she looked really insulted. (I didn't notice if he got a good moodlet for it.)
Anyway, there are a lot of other issues right now with the whole story (things I will have to change and elements that make no sense when jumping in), but it promises to be an interesting project for me to test my creativity and to test what can and can't be done with the game. I'm seriously giving it a good go, deleting houses and things like mad. Adding in my own sims and all that.
Of course, one problem I forgot for my actors being so young-- they still have to go to school five days out of the week. That cracks me up when I consider what Michael is supposed to be. He's really too smart for school. But there are penalties if they don't go it seems. And I haven't found any hacks yet for no school.